Need a Website Designer Who Is Affordable & Knowledgeable?
Website Designer | Digital Marketing & SEO Consultant
I am a Website Creator & SEO Expert helping Small Business and Local Business build awareness for their brands. At Wabu Web Design, our focus is to not only build creative websites, but simple website design that is easy to navigate and find – all while maintaining an adaptable and highly integrated business model. We provide all-in-one, affordable website design packages and affordable SEO packages for all you need to grow your business online.
I am originally from Williamsburg, Brooklyn, NY.  I studied advertising at the Fashion Institute of Technology and went on to small roles in different advertising agencies before moving to Houston. I then worked at the University of Houston and developed a blog called Almost Josephina as a creative component to my website content writing services portfolio.
I then left to work full time as a web content writer while helping my husband with his IT consulting company as a Business Marketing Coordinator. During that time he asked me to help him open a new service. His clients asked if we offered website design. I had been building websites for myself all along.
Working together – with his IT skills and my web design, digital marketing skills, and advertising experience – we developed an offshoot called Wabu Web Design. We use this vehicle to provide a service to small businesses who have very specific web design needs – AFFORDABILITY & EFFICIENT DESIGN. As a Website Designer, I want to help my clients meet their goals because I cannot be successful unless they are successful.
I also acknowledge that every so often I get a client who met a website designer who put profit ahead of the "grow together" model, who was not honest or simply didn't put in the work for the fees paid. We have been creating websites and helping clients rank on search engines for 7 years now. We have a successful business model while simultaneously being honest with our clients and empowering them and teaching them.
It can be done. That is why we remain a small business ourselves.
How did you get to where you are today?
I started out studying advertising in New York City but after 9/11 that industry took a hard hit and I was only able to get jobs in the advertising industry here and there. I learned to reinvent myself over and over again, learning different aspects and branching out of advertising.
Writing was always my hobby so I put all those writing classes I took in college to use and turned to writing web content. I learned graphic design, photography, and took classes in web development while I was working a 9 to 5. I am a naturally creative person and also dabbled in staging homes and jewelry design. I'm also really good at organizing small spaces having lived in NYC all of my life.
All of these skills I acquired over the years and sometimes by pure chance – both significant and seemingly insignificant – helped me form the idea of starting my own web design company. I always felt motivated by the stories of small business owners and their fearlessness. Many of them would ask me the same question, "Do you know a good, affordable web designer?" And so I decided to offer what they were asking for – all in one, affordable, small business friendly web design services with transparent pricing.
Has it been a smooth road?
No, not at all. I had to find the right business plan, both for me and my clients. I never knew that this is what I would end up doing. I was pretty much-taking steps forward without really knowing the destination. But I was listening to what was needed and that is how I continue moving forward, especially in the business aspect of the business.
It takes a while as a small business owner, to learn how to wear all of the hats and make it work for you. Deciding to do what you love to do and making it a successful venture is challenging but it can be done.
So let's switch gears a bit and go into the Wabu Web Design story. Tell us more about the business.
Wabu Web Design is not your average web design company. For one thing, my clients are small and medium-sized businesses. They have very specific needs and budgets. It is important for our economy to keep the local, mom and pop type businesses going and to do that they need services that will cater to them. They don't need services that are fancy, high-end, with all the trimmings.
They need efficient, practical, eye-catching, and well-engineered web design services. A website may be many things – beautiful with all of the bells and whistles and so on – BUT a website that can't be found is a dead website. It is not working for you.
We create sites that are engineered to give the business owner a good foundation. We focus on branding and research their industry to know how to best approach the design. A well-designed, well-engineered site will help boost a business' credibility and image.
There is a lot of work to be done. We know that 55% of small businesses do not have a website. Their reasons vary. What I keep hearing is, "I just don't have the time to build one." Or, "I just don't have the know-how to build the site I want or to find the right person to do it."
We help these small business owners by providing hassle-free, we take care of everything, affordable, web design services. We are transparent about what it will cost them, we stick to that pricing structure and we educate them about the process. I love taking the worry away from them because they have a lot of hats to wear already.
How do you think the industry will change over the next decade?
The web design industry, like many technology-driven industries, is in constant flux. We are always learning something new and experimenting with new ways of doing things. It will always be interesting to see where we will go in the future. I like to listen to its movement and see where it takes me personally. There is much to do and as long as we keep moving and reinvent ourselves to follow it – the possibilities are limitless.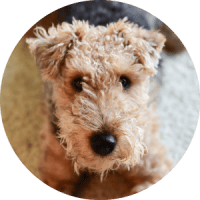 Rocco
Public Relations
Rocco is our Tenacious Terrier in Chief. He calls the shots around here and demands his paycheck be paid in a timely manner and in biscuits. As many Welsh Terriers do, he tends to think he is bigger than what he really is. Rocco frequently makes big dogs cry. He calls it "keeping them in line."